Hey all, here's the latest bonus letter from your good friend, me. I already have some idea of what my next piece will be on, so this is possibly the start of a series on mundane occultism.
//
It took me a few weeks to get my podcast queue back under control after mostly ignoring it for three weeks while I was in the States. I don't subscribe to that many podcasts, and plenty of them are only irregular, but in those weeks away that queue hit critical mass (largely thanks to a backlog of Philosophize This!, admittedly). It weighed on my mind as if it was an important responsibility I'd been avoiding, like vacuuming, flossing, or my email inbox, but one that would take 60-odd hours to complete – even listening at 1.2x speed.
It had become a burden.
Normally I listen to podcasts for a good chunk of the day while I do my dayjob, when I'm cooking and doing chores, during commutes, and when I go out my daily walk. A few years and a couple of houses ago, I lived close to a creek (and a highway, but that's not important). Every day when I went on my walk/jog, I'd follow the track along the creek – edged with native flora, its every concrete surface marked with graffiti that would fade and bloom with the spraypaint seasons, always changing. I loved that track. I mean, I hated running it – never trust anyone who tells you they enjoy running – but the track itself was a great backdrop. I hit the track with a headful of ideas, and ears full of music, the wind and birds in the trees, and interesting images and turns of phrase painted along the path. All of it came together to feed me even more ideas – stories, characters, dialogue, twists.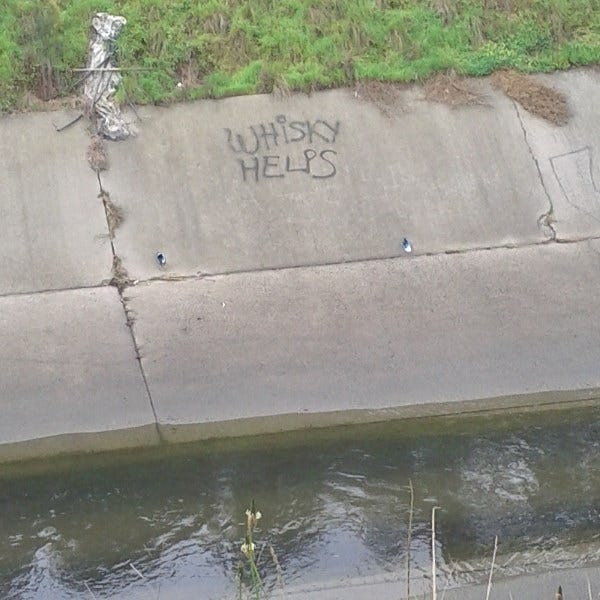 The only problem is, running is really fucking boring. 'Good for you' maybe, 'good for your mental health', but so fucking boring. For every one of those moments of inspiration, I'd have thirty minutes of mind-numbing, calf-aching, bullshit running. And after a while, the music became too easy to tune out. I'd tune it out and my inner monologue would have a chance to dominate, and all my inner voice would say is "Can't we just fuck off back home and eat an entire pack of Oreos?"
My solution? Podcasts. The podcasts at least require proper engagement. You either follow along with the conversation, or you get left behind.
(For a while, later on, at a different house, even podcasts weren't enough to counter the boredom, and I took to using my housemate's treadmill and watching TV shows on my tablet. Let me tell you, that is a great way to test some of the crap that ends up on these streaming platforms. If it can't distract you from the monotony of the hamster wheel, then it's not a good show.)
One of the podcasts I listen to is Ultraculture, a podcast about occult and countercultural thinking. Because, like many people who read The Invisibles in their teens or early twenties, I'm interested in chaos magic(k), and occult/esoteric beliefs/thoughts/history more generally. On one episode, I can't remember which, the host Jason Louv said something that stuck in my head – he likened podcasts to telepathy. That might sound like precisely the sort of technoccult hyperbole you'd expect to hear from someone running an online magick school, but it stuck with me precisely because it rings true. A podcast is someone's voice being broadcast to countless people in such a way that their singular voice fills the heads of the many, overriding internal monologues, overriding thought.
(This framing of course reminded me of Burroughs and his talk of the telepathic control of Mayan priests… Actually, come to think of it, Louv may have referenced Burroughs directly, but at least I know that Burroughs was already kicking around inside my head before I listened to that Ultraculture episode.)
Maybe podcast-as-telepathy sounds really obvious, or like utter bullshit, but I found the analogy kind of stunning. It's a new angle from which to consider something utterly mundane. It's a way to rethink a form of consumption that many of us thoughtlessly take part in every single day. And, like I said, it rings true to me. When I'm on the dayjob clock, any time I have to read something more involved than a single sentence, or any time I have to write an email, I either have to pause the podcast or know that I'm simply not going to hear anything they say until I've stopped using the word-focused part of my brain. My brain can only process one language track at a time – my own thoughts or someone else's, and it seems like more often than not, if I let it, that other voice will drown out my own.
(I've long had a distaste for advertising. (The first time I read William Gibson's Pattern Recognition it was like seeing myself on the page.) I think a big part of that is the knowledge that these ads are trying to insert thoughts, ideas, and desires into my mind. For me the worst was always radio advertising – to the point where the only radio station I could listen to was Triple J, a youth radio station funded by the government and thus completely free of advertising. I'm sure part of my hatred for radio ads was related to the awful aesthetic – those horribly cheesy voices and godawful jingles – but maybe subconsciously I was always aware of this aural telepathy.)
Me and m1k3y have recommended Max Anton Brewer's SCIOPS newsletter a few times. If you're also a subscriber, you'll be familiar with his message of remaining aware and wary of the dark magicians that design and run the surveillance capitalism that is the basis for so much of our current internet. MAB focuses on social media and internet advertising, but it's easy to see podcasts as yet another facet of this crystal of control. I've even gotten to the point where if I only feel middling about a podcast and that podcast is supported by ads, then I'll unsubscribe. It's mental self-defence.
Anyway, this might seem like a long and barely-focussed ramble, but it's something I've been thinking about a lot as I ramp up to start writing my next book. I want to reclaim those 40-60 minutes of walking and thinking time each day. I want to listen to varied strains of instrumental, drone, and electronic music as background noise when my brain is firing on all cylinders. I want to fill my head with odd shards of eclectic lyrics that might spark ideas when my mind is feeling blank. I want to give myself a break from the constant chatter of other people's voices and maybe give my own a chance to speak. I want to let my brain dig through the mound of composting ideas I've been adding to for months (years?) now and get to the rich, dark heart of this story so I can bring it to the surface.
I won't give podcasts up. They're an easy way to pass the time during those dayjob hours, and there is too much interesting research fodder that could feed into my work, not to mention pop/cultural commentary that I enjoy too much to completely abandon. But I'm wary. I've pared my podcast list down to something more manageable so my mind can have the space to do what needs to be done. This book isn't going to write itself, but my brain can do a lot of the work for me in the background if I only I give it a chance.
All the above said, here's a list of podcasts I still recommend – telepathic mind invasion or no…
And that's it – hopefully I've given you something new to chew on.