MJW: This is nothing here, and I'm mjw, coming at you from day 116 of LOCKDOWN 2 in Melbourne, Australia, where there is officially no point to anything any more! The only things keeping me alive are hazlenut gelato and memes! In this issue we've got the obligatory pandemic shit, radicalised hackers, Ruby Rose and ethical sex work advertising platforms, plus a bunch of other good content that might help keep you alive too?
The latest bonus was by CJW, Our Centaur Futures, about AI's potential as a collaborative tool rather than as an adversarial threat or as a strictly-controlled service sold to us by corporations. To get access to this bonus, future bonuses, and the full archive, just go here to become a supporter.
---
The Team
Articles
DCH: This Overlooked Variable Is the Key to the Pandemic
It's not always the restrictiveness of the rules, but whether they target the right dangers. As Morris put it, "Japan's commitment to 'cluster-busting' allowed it to achieve impressive mitigation with judiciously chosen restrictions. Countries that have ignored super-spreading have risked getting the worst of both worlds: burdensome restrictions that fail to achieve substantial mitigation. The U.K.'s recent decision to limit outdoor gatherings to six people while allowing pubs and bars to remain open is just one of many such examples."
More great writing from Zeynep Tufeki. More than most writers she's putting in the hard graft to really understand the Coronavirus. It's a long read but well worth your time.
CJW: Not only that, but she does a great job of communicating her research in a way that is clear and straightforward. Anyway, I found this interesting:
Right now, many states and nations engage in what is called forward or prospective contact tracing. Once an infected person is identified, we try to find out with whom they interacted afterward so that we can warn, test, isolate, and quarantine these potential exposures. But that's not the only way to trace contacts. And, because of overdispersion, it's not necessarily where the most bang for the buck lies. Instead, in many cases, we should try to work backwards to see who first infected the subject.
I assumed contact tracing worked primarily by looking back to see who else was infected, rather than (or as well as) looking forward. Funny that my assumption lines up with best practice…
Even in an overdispersed pandemic, it's not pointless to do forward tracing to be able to warn and test people, if there are extra resources and testing capacity. But it doesn't make sense to do forward tracing while not devoting enough resources to backward tracing and finding clusters, which cause so much damage.
//
DCH: How the World's Biggest Slum Stopped the Virus
The irony is that Dharavi, which has a population of about 1 million and is probably the most densely packed human settlement on Earth, has largely contained the coronavirus. Thanks to an aggressive response by local officials and the active participation of residents, the slum has gone from what looked like an out-of-control outbreak in April and May to a late-September average of 1.3 cases per day for every 100,000 residents, compared with about 7 per 100,000 in Portugal.
Against all odds this Mumbai community got the Coronavirus in check. Now the hard work begins to make sure economic catastrophe doesn't undo it all.
CJW: Funnily enough, the thing that grabbed my attention was the mention of recycling near the opening of the piece:
He'd been spending his days sitting on a plastic chair, drinking cup after cup of milk tea and chatting with other Dharavi entrepreneurs, all of them part of Mumbai's fearsomely efficient but completely informal recycling industry, who stopped by to talk business.
I want to know how an informal and fearsomely efficient recycling industry can compare to the industry here in Australia. My guess is that economic necessity leads to far better outcomes than an industry that will only recycle what they can easily turn a profit from. If there was, say, a tax on the tonnage that recycling operations add to landfill, then we'd quickly see the industry either working to better educate consumers in their catchment areas and/or figuring out ways to recycle more than they bother with currently.
//
MKY: Real-time data show COVID-19's massive impact on global emissions
"While the CO2 drop is unprecedented, decreases of human activities cannot be the answer," says Co-Author Hans Joachim Schellnhuber, founding director of the Potsdam Institute for Climate Impact Research. "Instead we need structural and transformational changes in our energy production and consumption systems. Individual behavior is certainly important, but what we really need to focus on is reducing the carbon intensity of our global economy."
emphasis mine.
//
DCH: Internal document shows Trump officials were told to make comments sympathetic to Kyle Rittenhouse
In preparing Homeland Security officials for questions about Rittenhouse from the media, the document suggests that they note that he "took his rifle to the scene of the rioting to help defend small business owners." Another set of talking points distributed to Homeland Security officials said the media were incorrectly labeling the group Patriot Prayer as racists after clashes erupted between the group and protesters in Portland, Oregon.
The Department of Homeland Security is protecting an armed terrorist that's taken American lives.
//
DCH: Saving Uighur Culture From Genocide
How do you protect a culture that is being wiped out?

For Uighurs, this is more than just a hypothetical. Repressive measures against the ethnic minority have progressively worsened: The Chinese government has corralled more than 1 million of them into internment camps, where they have been subjected to political indoctrination, forced sterilization, and torture.
And it's also forced labour too. Which the biggest of Big Tech companies—Amazon, Apple, Facebook, and Google—profit from and aid & abet. The Silicon Valley supply chain puts the Uighurs in chains.
//
DCH: His Writing Radicalized Young Hackers. Now He Wants to Redeem Them
"If you found yourself in tech because you were excited by how much self-determination and power and pleasure you got from mastering technology, and then found your entire professional life devoted to ensuring that no one else ever felt that, this is the time for your moral reckoning."
Wired Interview with Doctorow on his latest, Attack Surface, and how he wants to motivate belated Oppenheimers to take action against the world they've created.
//
CJW: Inside Palantir, Silicon Valley's Most Secretive Unicorn
"Here's the dirty secret of all of these data-analytics solutions," a former Pentagon research manager told me. "They all claim to take these disparate data sources and put them together and then discover these amazing correlations between variables. But the problem is that all of these data sets are terrible. They're dirty." Many types of information, after all, are gathered and processed by humans. It may be entered inconsistently or provided in wildly different formats or riddled with inaccuracies. It's messy, like the real world it reflects and records, and it doesn't always fit into software with any sort of mathematical precision.
An interesting history of the data analytics and tech surveillance company we love to hate.
//
DCH: Why Facebook Can't Fix Itself
In theory, no one is allowed to post hate speech on Facebook. Yet many world leaders—Rodrigo Duterte, of the Philippines; Narendra Modi, of India; Donald Trump; and others—routinely spread hate speech and disinformation, on Facebook and elsewhere.
Time to paraphrase Upton Sinclair, "It is difficult to get someone to fix something when their salary depends upon them not fixing it."
//
"Grafton was a poor town to begin with, but with tax revenue dropping even as its population expanded, things got steadily worse. Potholes multiplied, domestic disputes proliferated, violent crime spiked, and town workers started going without heat. "Despite several promising efforts," Hongoltz-Hetling dryly notes, "a robust Randian private sector failed to emerge to replace public services." Instead, Grafton, "a haven for miserable people," became a town gone "feral." Enter the bears, stage right."
You can't spell libertarians without bears.
++++
Cutting Room Floor:
---
Books
MJW: Look, I didn't know if writing about a contemporary YA book was going to exactly fit in the newsletter, but I 100% don't care because Meg Elison (who is a fucking wonderful person IRL) just released a book called Find Layla, and friends, siblings, it's so fucking good. Layla is fourteen and her life isn't anything like her friends' lives. She lives in squalor with a mentally ill mother and she does her best to take care of her younger brother. When a science project calls for investigation of a 'biome', Layla records the biome of her home, and when the video goes viral, it starts off a necessary trajectory that cannot stop until it reaches a devastating conclusion.
Having inhabited the YA genre for a bit, I'm really interested in the exploration of lives that stray from the standard middle class we often see presented to this readership. I'm seeing more and more of it, and Find Layla is an important contribution.
---
Movies + TV
CJW: Relic (2020)
I'm not a huge horror fan, but I watch enough of it to know that we're in a golden age of horror cinema right now, and Relic (directed and co-written by Natalie Erika James) is probably the best Australian horror movie since The Babadook.
When Edna (Robyn Nevin) goes missing, her daughter Kay (Emily Mortimer) and granddaughter Sam (Bella Heathcote) arrive in her small town to help the local authorities search for her. But Edna reappears as mysteriously as she disappeared. While Kay thinks her mother's disappearance is proof that she needs around-the-clock care at a nursing home, Sam is willing to uproot her life and move in to look after Edna, until both daughter and granddaughter realise that a spreading darkness within the house could be a danger to them all.
It's about the confusion and loss of dementia, and the tensions inherent in any family. Nevin, Mortimer and Heathcote are all fantastic in their roles, playing off each other brilliantly, with the relationship dynamics of the three generations of women shifting as things unfold.
It's compelling, dark, beautifully shot and acted, and Emily Mortimer is one of the few foreign actors to actually nail an Australian accent. It's on Stan in Australia - not sure where it might be streaming in your part of the world, but keep an eye out for it.
//
MKY: The Doorman
Ruby Rose is… The Doorman. It's the usual deal: a combat veteran returns home after going through the shit, gets 'parent-trapped' by her uncle into taking a gig with him as a doorman - a ruse to reunite with her dead sister's family - only to find herself caught up in a lower-scale, lower-stakes Die Hard-type situation.
Jean Reno wants what's owed him, and he's taken over the building to collect. He's waited thirty years, he's waited long enough! What he didn't know when planning his heist was the back-story of the new doorman, who's using all her training to take down his crew, one-by-one, with a little help from her nephew - who just happens to know all the secret passages and rooms in the building (and there's ya navigating via nakatomi space, kids).
Whilst this isn't the most original movie, it's a solid lil number that cements Ruby Rose as an action lead. Which is what happens after a tour with the John Wick team, then taking on the cowl as the first Batwoman. Her fight scenes are tight and crisp, her stand up is as great as her jiu jitsu, and maybe you just wanna see her taking down a bunch of cops in seconds, just 'cause they're in her way?
In an ideal world, she'd be helming a spin-off from her role in xXx: The Return of Xander Cage next. I mean, who doesn't wanna see more adventures of a sniper taking out the rich 'on safari' - actually just shooting drugged up big cats then posing for selfies?
I'm sure Megan Fox would agree, since that was almost the plot, but definitely the point, of her recent film, Rogue (trailer) - instead leading a team of mercs on a rescue mission, and learning about the horrors of lion farming on the way.
---
URL
CJW: Disassembly Required — Real Life
By putting anthropomorphic robots — too cute to harm, or too scary to mess with — between us and themselves, bosses and corporations are doing what they've always done: protecting their property, creating fealty and compliance through the use of proxies that attract loyalty and deflect critique. This is how we reach a moment where armed civilians stand sentry outside a Target to protect it from vandalism and looting, and why some people react to a smashed-up Whole Foods as though it were an attack on their own best friend — duped into defending someone else's property over human lives.

[...]

I appreciate a robot liberation narrative insofar as it provides a format for thinking through emancipatory potential. But as a political project, "robot rights" have more utility for the oppressors than for the oppressed.
I didn't love the entirety of this essay, but its main point (outlined above) is a worthwhile one. I for one think we can never have enough tech/capitalist skepticism.
Also a couple of parallels to my latest bonus: Our Centaur Futures.
---
Comics
CJW: The Grot, by Pat Grant
Mikey recently shared this article on some Aussie comix creators and their work in a chat thread, and two out of the three sounded like something I could be interested in. First is The Grot Volume 1: The Story of the Swamp City Grifters, by Pat Grant, with gorgeous watercolours by Fionn McCabe.
The Grot is set in an undefined post-apocalypse, where pedal power is the main energy source and a mysterious green algae growing in a sprawling swamp can make a person rich overnight. But these are desperate times, and for every person wading through the swamp to find their treasure there is a pickpocket or con artist working the easy marks on the streets of Falter City.
The story starts with Penn and Lippy on the road with their mother, heading to Falter City to continue the family's successful yoghurt business - with mum handing the reins (and all the family's money) over to Lippy, the new head of the company.
From there it's a weird and inventive introduction to our characters and this city that will make or break them. The Grot is funny, clever, and not without some emotional weight. It's a good-sized chunk of comix, but it's very much a first volume, telling a complete tale, but leaving plenty more story to tell. And I, for one, am here for more.
---
Video
MKY: a self-funded, fan-made short film [tho more like a teaser trailer] adaptation of Peter Watts' stellar posthuman first contact novel, Blindsight. More at https://blindsight.space/.
CJW: This video looks so incredible I went and ordered a copy of the book immediately. Yes, I've not read it. Yes, MKY has been telling me to read it for probably literal years now. Yes, the book is available in a number of digital formats under creative commons - but without a physical book on my bedside table, I'm just going to forget about it...
---
Music
DCH: Busta Rhymes basically predicted the nightmare that is 2020 way back in 1998. And sure he was 20 years of the mark but still. Music for the end times.
---
Art
MJW: Hey Weeirdo
I mean, I'm not sure anything I say can really illustrate how weird and rad and amazing this art is. The following image is tagged 'Great. Another unrealistic body expectation.'
---
The Self-Promotion
MJW: Mia Walsch on her new book, Money for Something, and getting published as a sex worker
Tryst.link is an advertising platform run by and for sex workers, created as an alternative Backpage (which was seized by the FBI in 2018.) It empowers sex workers and gives them a platform to advertise their services, screen clients and take charge of their independent business. The seizure of Backpage and FOSTA/SESTA actually made sex work more dangerous (particularly in the US) and Tryst provides a vital service that actually gives a shit about the sex workers that advertise there.
We put sex workers first in a way that they haven't been by an escort directory before. We encourage feedback from both workers and clients on what they need and want from the platform and we consistently consult with sex workers and sex worker organisations on the development of our product. We're in it for the long run.
Anyway, this turned into a love letter to a platform that is important and that I believe in. I was super delighted when they asked me for an interview.
---
MJW: Thanks for sticking with it. The world is a fucking depressing shitfire, but good people can make their little parts of the world better, and I guess that's what we're trying to do here. All of you jerks who follow us and support us and read our stuff every week, you're part of that. Go out (or like, stay in your house) and do what you can to make your world a little less shit. And if all that is dragging you through is the idea of good folks, Italian ice-cream and memes, well, that's something, isn't it?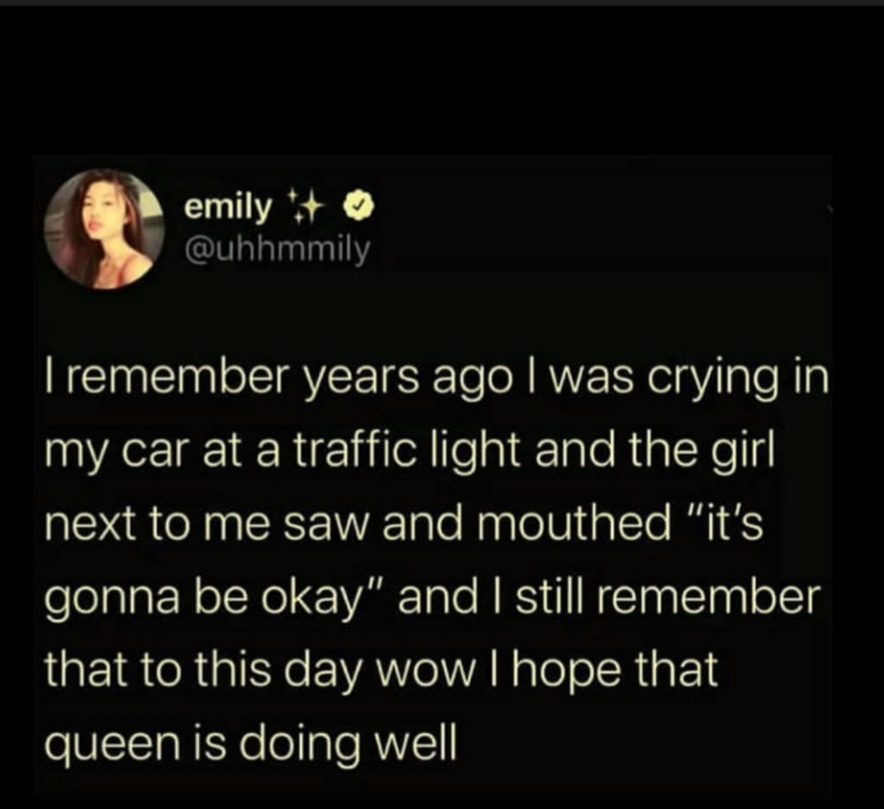 And maybe share the newsletter with someone you think may appreciate it.